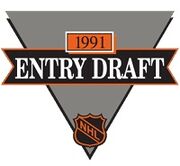 The 1991 NHL Entry Draft was held on June 22, 1991 at the Memorial Auditorium in Buffalo, New York. A total of 264 players were drafted.
The draft was famous for the controversy surrounding star first overall draft pick, touted by some observers to be The Next One, Eric Lindros who was drafted by the Quebec Nordiques, but he immediately refused to sign a contract.
What followed was one of the biggest trades in NHL history which the Philadelphia Flyers used to acquire Lindros in the process trading away future superstar Peter Forsberg.
Selections
Edit
Round One
Edit
Round Two
Edit
Round Three
Edit
Round Four
Edit
Round Five
Edit
Round Six
Edit
Round Seven
Edit
Round Eight
Edit
Round Nine
Edit
Round Ten
Edit
Round Eleven
Edit
Round Twelve
Edit
Ad blocker interference detected!
Wikia is a free-to-use site that makes money from advertising. We have a modified experience for viewers using ad blockers

Wikia is not accessible if you've made further modifications. Remove the custom ad blocker rule(s) and the page will load as expected.