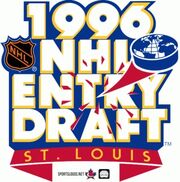 The 1996 NHL Entry Draft was held at the Kiel Center (now called the Scottrade Center) in St. Louis, Missouri, on June 22, 1996.
As the relocation of the original Winnipeg Jets franchise to Phoenix was not official until nine days after the draft, selections of the future Phoenix Coyotes team were made under the Jets' name.
Selections
Edit
Gold: NHL All-Star
Peach: NHL All-Star & NHL All-Star
Round One
Edit
Round Two
Edit
Round Three
Edit
Round Four
Edit
Round Five
Edit
Round Six
Edit
Round Seven
Edit
Round Eight
Edit
Round Nine
Edit
Ad blocker interference detected!
Wikia is a free-to-use site that makes money from advertising. We have a modified experience for viewers using ad blockers

Wikia is not accessible if you've made further modifications. Remove the custom ad blocker rule(s) and the page will load as expected.