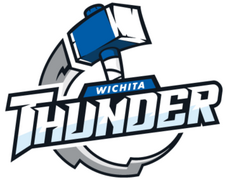 The Wichita Thunder are a minor league hockey team based in Wichita, Kansas.
The team played in the Central Hockey League (CHL) from 1992 until 2014 and then in the ECHL since the 2014–15 season.
From 1992 until December 2009 the Thunder played in the Britt Brown Arena located in the northern Wichita suburb of Park City. In January 2010 (the second half of the 2009–10 season), they began playing its home games at the newly built Intrust Bank Arena.
Ad blocker interference detected!
Wikia is a free-to-use site that makes money from advertising. We have a modified experience for viewers using ad blockers

Wikia is not accessible if you've made further modifications. Remove the custom ad blocker rule(s) and the page will load as expected.